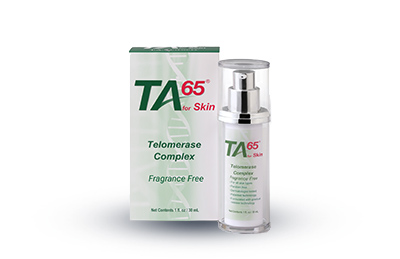 New York, N.Y., January 17, 2019 - T.A. Sciences – The world leader in telomerase activated nutritional supplements and skin cream announces a new addition to their skincare lineup, T.A.-65 for Skin Fragrance Free. This anti-oxidant formula delivers the same outstanding results as the original, but without fragrance.
Based on advances in the field of Telomere Biology, T.A.-65 for skin provides benefits at the cellular level. This exclusive patented formula is validated by multiple clinical research studies.
Benefits include, reducing the visible signs of aging, increasing skin firmness and tone, evening out discolored and blotchy skin tones, and diminishing facial wrinkles and folds.
Clinical studies have shown:
A reduction in pre-clinical damage after 8 weeks
A reduce in uneven pigmentation after 16 weeks
An improved skin firmness by 42% after 2 weeks, and 89% after 12 weeks
A reduction in redness by 9% after 12 weeks
Both formulas are 1 fl. oz/30ml, and designed for both men & women, all skin types, paraben free, dermatologist tested, based on patented technology and come packaged in a patented airless delivery system to dispense the optimal dosage and preserve product efficacy.